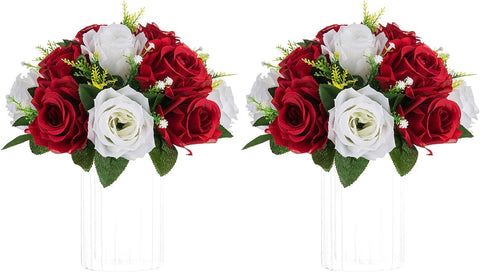 Artificial Flower Centrepieces for Tables - 2 Pcs
Package Includes: 2 Pcs fake flowers & 2 ties, vases are not included. SIZE: 9.5inches/ 24cm in diameter, 4.75 inches/ 12cm tall. SHAPE: A fake flower is hemispherical with a plastic base (With a base, these half flowerballs can be placed directly on the flower stands/vases or on the table).
3 Functions In One: These fake flowers can be used as tabletop decorations with the flower stands sold in our store. Second, they can be placed directly on the table, are very economical, and dress up nicely. Third, two fake rose bouquets can be tied together with the ties (included in the package) to make a full floral ball.